I covered my p2p lending portfolio periodically over the past 12 years in this blog. The following report is a snapshot on how it is composed right now (May 2019) and which strategy I will take for the next months. As you can see below I aim for a widespread diversification (over different platforms as well as geographically) of my p2p lending investments.
Mintos
Mintos* is my biggest position. I run a trading strategy on Mintos. Mintos gives my net annual return as 15.1%. Calculating it myself based on the deposits and withdrawals I get a XIRR value of 24.8%. The cause for the huge discrepancy is that Mintos does not account correctly for the cashback of the campaigns. I heavily traded, when Mogo ran a campaign. For example I invested in new Mogo loans that were offered with a 2% cashback on the primary market, nearly instantly sold them with 1.8% discount on the secondary market and pocketed the cashback. Rinse and repeat.

I am satisfied with the current degree of diversification over loan originators in my Mintos portfolio. The bulk of my investments is in loan terms between 3 and 30 months at interest rates ranging from 13% to 15%. The lower interest rate loans are usually only held temporary as part of my trading strategy.

For the coming month I plan to keep my Mintos* investment at roughly that amount, reinvesting the paid principal and interest.
New investors registering via this link at Mintos, get 1% cashback on amounts invested in the first 90 days. Mintos is currently not accepting UK investors.
Linked Finance
My second largest p2p investment is on Irish SME loan platform Linked Finance.

Diversification achieved is good. The majority of my loans have interest rates between 8% and 11%. Most loan terms are 2 or 3 years.
I "collected" 7 loans in default (double dip on the golf loan). But 5 of these had repaid more than half the principal before they want into the default state so the principal in default sums up to only 270 Euro. My self-calulated XIRR value is 6.4% if I totally write off the amounts in default and 7.1% if I assume that half the amount in default will be recovered. I plan to slightly increase my Linked Finance* portfolio in the next months. Linked Finance is not offering any cashback or bonus rewards for new investors.
Bondora
Bondora is my third largest and oldest (still running) p2p lending portfolio. I started in 2012. My self calculated XIRR value is 16.6%. A yield that high is not achievable nowadays anymore. My portfolio profited heavily from the first years when interest rates were typically 28% to 34%.

I am currently investing into Estonian A and B loans using these autoinvest settings. I have used these settings unchanged for 11 months now and it is running totally hands-off with no maintenance required.

On Bondora* I reinvest the bulk of my repayments and occasionaly withdraw some funds. New investors registering on Bondora using this link get a 5 Euro sign-up bonus.
Ratesetter Australia
Ratesetter Australia* is my fourth largest p2p investment and also one of my youngest. I started in August 2018. My XIRR value self calculated in AUD is 9,1% if I include the 75 AUD sign-up bonus and 7.4% if I do not include that.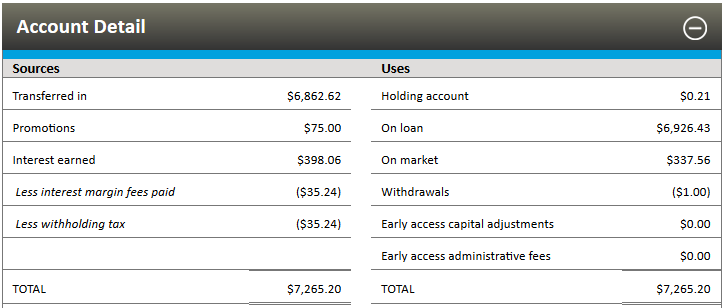 My money is mostly invested on the Ratesetter 5 year market at an average rate of 9.2% (that is after fees but before withholding tax).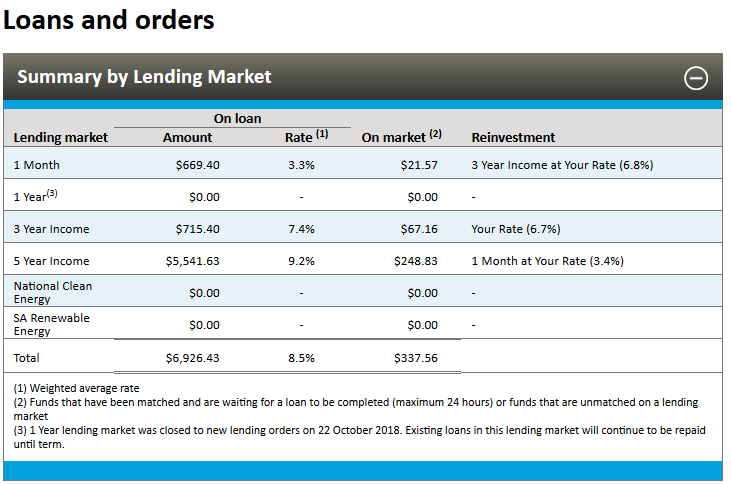 In the past months the interest rates have dropped considerably therefore I am parking some funds on the 1 month market or invest them on the 3 year market.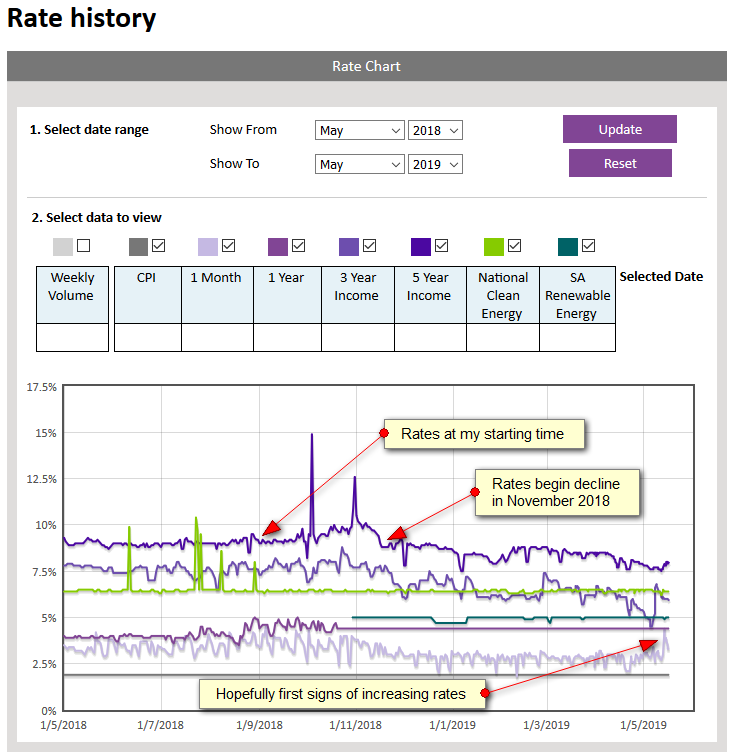 I am reinvesting all repayments at Ratesetter Australia. If rates go up again I plan to do that on the 5 year market, otherwise I'll settle for the 3 year market. It is a little complicated to register as a non-resident, but I have described how I managed to sign up as a European here. New investors can earn a 75 AUD promotion bonus by investing 2,000 AUD or more in our 3 year Income or 5 year Income lending markets before 31st May 2019. Achieving that requirement in time will not be easy, even if you start directly.
Iuvo Group
The fifth largest position of my p2p portfolio is invested at Iuvo. It is running hands-off and does not require any maintenance.

I continue to reinvest all repayments. Iuvo pays new investors a very generous cashback of up to 90 EUR. For more details and how to get it see the cashback overview page.
Estateguru
After I completely exited Lendy in last autumn, baltic Estateguru* is now my largest platform for property secured loans. I don't use the autoinvest. Instead I periodically login and manually invest into a new Estonian loan secured by a first rank mortgage.
I mostly reinvest all repayments. New investors get 0.5% cashback for all investments in the first 90 days, if they sign up using this link.
Fellow Finance
I used to have a larger portfolio at finnish Fellow Finance but I did not want to go below 12% for 4 star Finnish consumer loans therefore I started withdrawing funds last year. In January the sale price collections paid tor Finnish loans dropped from 70% to 53% which reinforced my decision to exit.
October
I am running down my portfolio on French SME loan marketplace October. With the low interest rates and rising defaults (6 out of 52 loans) in my portfolio the risk reward ratio is not for my taste anymore.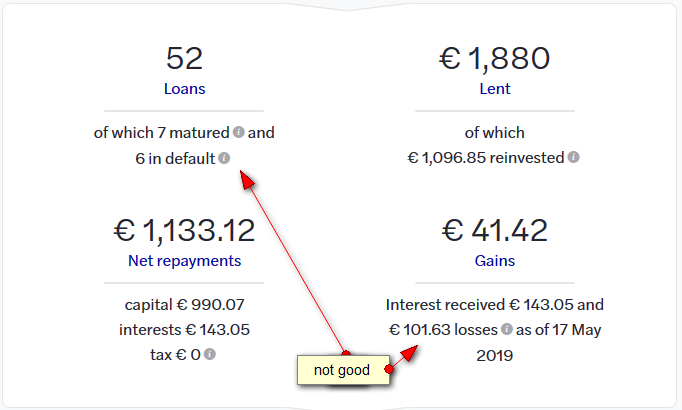 New investors signing up on October using this link* can get 20 EUR bonus (200 Euro minimum investment)
More p2p lending marketplaces
Due to professional interest (want to gain first hand experience) and curiosity I have more p2p lending portfolios at Ablrate* (small, reinvesting), Assetz Capital* (tiny, reinvesting, possibly increasing), Bulkestate* (tiny, testing), Crowdestate* (small, reinvesting), Finbee* (tiny, nearly exited), Investly (small, reinvesting), Lenndy* (tiny, watching), Monestro, (tiny, exiting), Moneything* (small, exiting), Neofinance* (small, testing, probably running down), Reinvest24* (small, testing), Robocash* (small, reinvesting), Zlty Melon* (tiny, exiting next month when terms are up).
Crowdinvesting
Not p2p lending but investing in startups. I am a huge fan of Seedrs*. Investing in startups is of course even higher risk than investing in p2p lending. Nevertheless I went ahead and built a big Seedrs portfolio over the last years. Snapshot:

P2P Conference Riga
I am looking forward to be at the P2P Conference in Riga* which is less than 4 weeks away. The conference is reasonably priced (enter promotional code P2PEARLYBIRD40 for 40% rebate) and Riga can be reached with cheap flights from many European cities. BTW, Riga is an interesting town, if you have not been there yet you could combine the conference with some sightseeing.