I decided to try out another UK p2p lending service. Bondmason is not a marketplace facilitating loans itself, but rather acts as intermediary steering and automating investments for the users. Bondmason wants to offer an easy way to automatically invest and diversify. To allow this, I need to hand over full control to Bondmason. In return Bondmason projects a target return of 7% after fees and bad debt. Note that the target return is not guaranteed.
Getting started was easy. I deposited the minimum amount of 1,000 GBP. Since I am in the Eurozone I used Transferwise to do this in order to avoid high bank fees. For higher amounts Currencyfair can be cheaper. After two days Bondmason notified me via email that my money arrived. After login I saw that the service already invested 180 GBP in the first 9 selected loans.
Bondmason invests in sme loans, property loans and invoice discounting. Currently Bondmason is using 19 marketplaces, but does not disclose which ones are used arguing IP considerations. Some of them do not seem "typcial" p2p lending marketplaces, as one mentioned example is Fiduciam. As in investor I am only shown nominal interest rate, type of loan and term.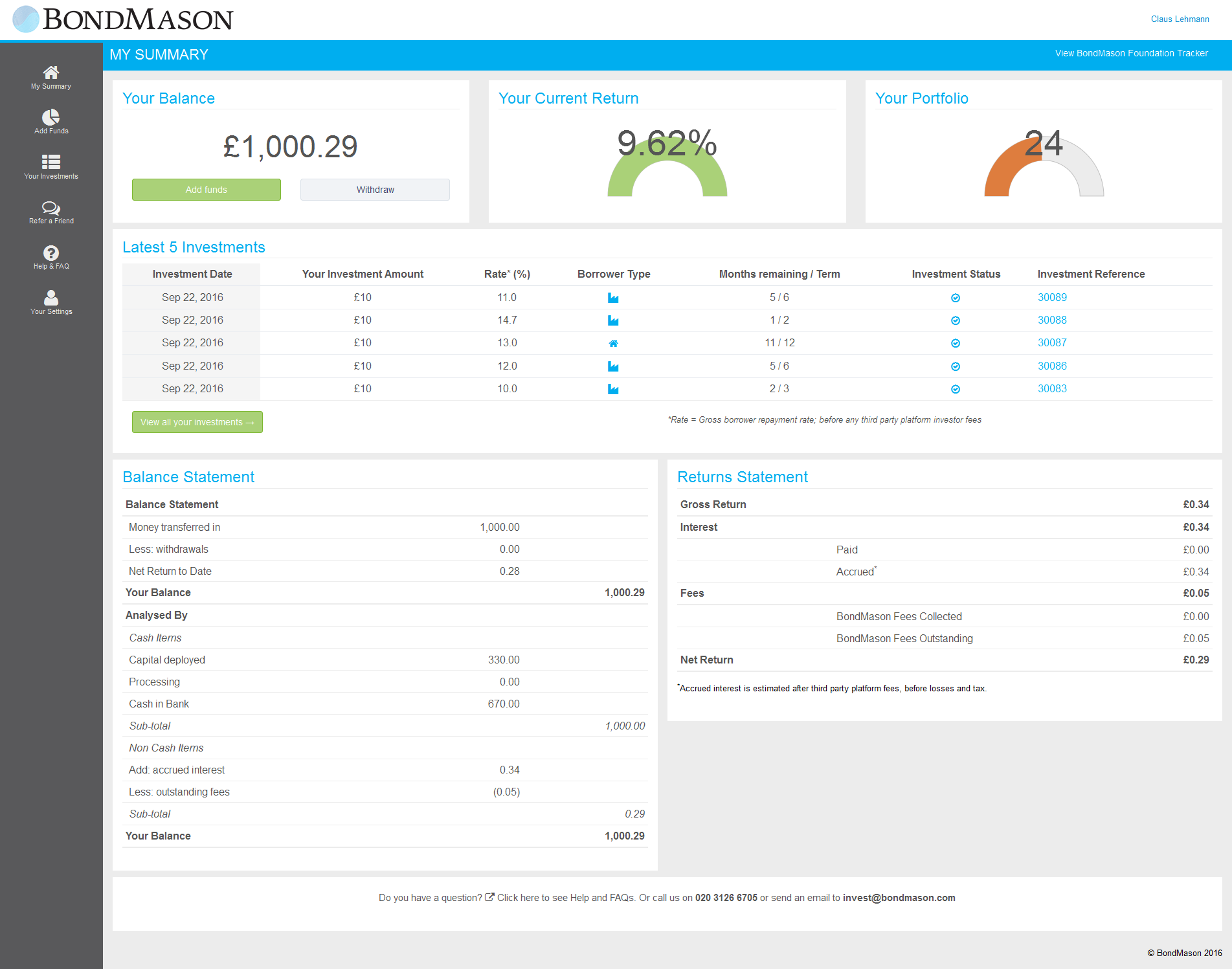 My Bondmason dashboard on day 6 after start (click to enlarge)

The information provided is rather minimalistic, there are really only two views. The dashboard view (see above) and the investment view (see below). Regarding parameters there is only the choice whether to reinvest and the diversification setting, which lets me select a maximum of 2% or 1% investment concentration. There is no account statement.
So far Bondmason invested 330 GBP (or 33%) of my cash. The selected loans have nominal interest rates ranging form 6.0% to 14.7% and terms between 1 and 13 months. As an investor I have to fully trust the loan quality and loan selection provided by Bondmason to deliver the promised target return. Since (so far) all my loans are bullet loans, it will take me even longer to find out how high bad debt levels will be in reality. But that's what this test is for and I'll continue to report on my Bondmason experiences.
This page gives some more information on the approach of the algorithm in loan allocation. Bondmason targets one third loans with less than 60 days, one third with up to 12 months term and one third over 12 months term for my portfolio.
There is no secondary market, but Bondmason says it aims to liquidate investor's portfolios within 28 days upon request in normal market conditions (not guaranteed) and typically will not charge a fee for this.
Bondmason charges 1% p.a. fee based on the amount y invested through the platform – "AUA" – assets under administration. This is calculated on a daily basis, and is paid directly from the interest and capital repayments investors receive.
My initital impression: I like the interface but would love more information. Bondmason is interesting for very passive investors that just want to invest money in p2p lending without having to make any choices themselves. Finding out if this is a good investment will take at least 1 or 2 years as it is totally dependent on the performance of the loans Bondmason selects on behalf of the investors. One could call Bondmason a robo advisor for p2p lending investments.
I'll continue to write about the development of my test investment on Bondmason.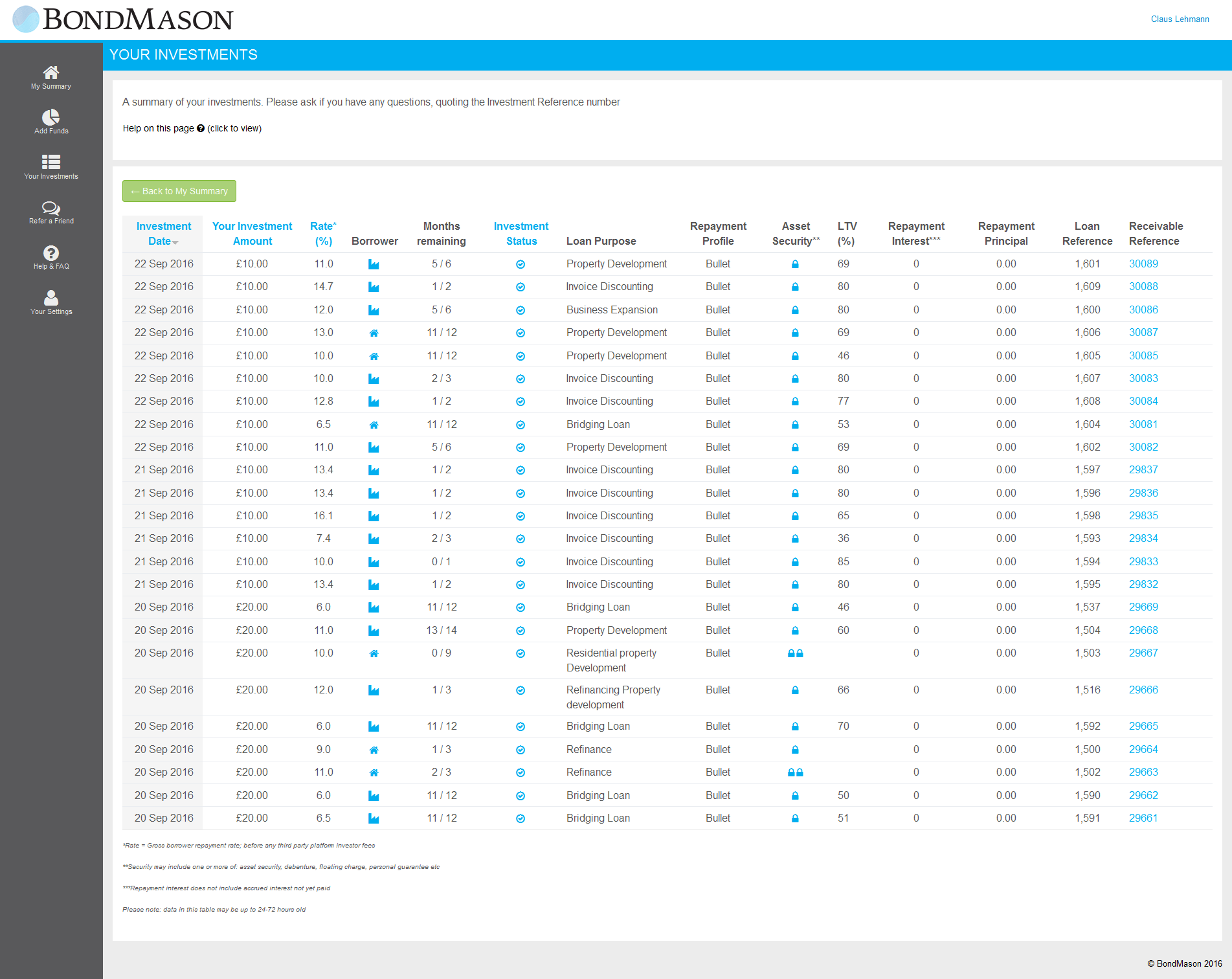 List of my Bondmason investments on day 6 (click to enlarge)