In Latvia p2p lending service Mintos has publicly launched. All loans are secured against residential real estate owned by the Latvian borrowers. CEO Mārtiņš Å ulte told P2P-Banking.com: 'We strongly believe that secured loans in our region and beyond offer much better risk/return matrix for investors. … We have raised 1 million Euro from a local venture capital fund. That has allowed to put together a great team and build the product. Our immediate future plans are to expand to other geographies on the borrowing side as well as test other types of secured loans. On the investing side we are already open to all European Union countries and Norway and Switzerland. We are constantly improving our product and putting daily updates as we go by taking into account investor suggestions and ideas so that we can deliver great user experience.'.
Actually Mintos started accepting borrowers and making loans in September already. Mintos prefinanced all loans and now the investors can invest into these prefunded loans. Due to regulation reasons, Mintos will continue to make all loans, before investors bid on them. CEO Mārtiņš Å ulte added: '… we [will keep] 5% of each loan on our books to align our interests with those of investors.'.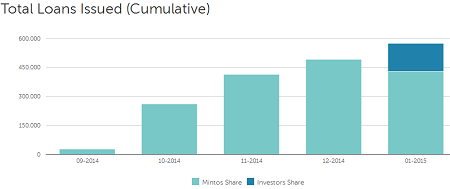 Chart: Cumulative loan originations by Mintos
As said all loans are secured by real estate and all contracts with borrowers are signed before a notary, which eliminates the risk of identity fraud. Typcial interest rates range from 12% to 19% with loan amounts between 1,000 and 100,000 Euro (average now is about 8,000 Euro).Loan terms are from 3 months to 120 months.
Investing at Mintos – my test step by step

The minimum invest is 10 EUR per loan. Mintos charges investors a 2% annual loan servicing fee based on the outstanding principal.
Naturally I wanted to test the service myself before writing this initial review. It took only 2 minutes to register. I then transfered a small amount via SEPA transfer which – as SEPA is pretty fast – was credited 2 days later to my Mintos account.
There are currently 62 loan listings open for bidding. There are filters allowing investors to narrow the list they want to look at and the list can be sorted by clicking on the column headings. Bids can be made directly from the overview table or the investor clicks through to the loan details view.

Example of a detail view of a loan listing. Shows the facts, 3 photos and an appraisal
For each loan the LTV is given. Obviously the lower the LTV the better for the investor. Since loans are prefinanced, some already have a payment history of made repayments which can be viewed in the 'Payment schedule' tab.
Mintos has a secondary market. Investors can sell loan parts for a 1% transaction fee (there is no fee for buyers). Sellers can set discounts of up to 99% and premiums of up to 20%. The secondary market parts are integrated in the loan listing views. If there are loan parts for sale from other investors then there is a '+' symbol on the "Invest' button on the right, which will open the list of these parts.
Auto Invest
I did not bid manually. Instead I used the Auto Invest Portfolio function. I created a portfolio to bid on loans with >15% interest, <42 months loan term and <55% LTV, 10 Euro per loan and some more parameters. Setting the autoinvest profile up was very easy. After I confirmed it within a second I had all my money invested in a portfolio of loans ranging from 15.5% to 19.9% interest rate.
According to support it is possible to run multiple auto invest portfolio in parallel. If more than one matches a loan then each of them will make a bid, meaning the investor will get more than one loan part in the same loan.
I now could see my loans in the 'My Investments' view. From there it is possible to list them on the secondary market. The 'Overview' is a dashboard view, nicely giving the status of my portfolio. Also available is an account statement with the transaction history.
My initial impression
The interest rates for the secured loans are attractive to invest into. I had a smooth start and will report in the future about my experiences using Mintos. If you have any questions, you are welcome to post them in the Mintos forum.