Today Latvian Mintos expanded by now offering loans to Estonian borrowers on the p2p lending marketplace. These loans are secured with a car as collateral. Today 15 loans were posted on the platform. Typical (nominal) interest rates for these loans seem to be between 11 and 13%. LTVs are as of today in a wide range from 26% to 90%.
CEO Mārtiņš Å ulte told P2P-Banking.com: 'From today we also offer investors opportunity to invest in loans secured by vehicle. We provide these loans in cooperation with Mogo (http://mogofinance.com), the market leader in car loans with operations in Latvia, Lithuania, Estonia, and Georgia. … as part of our international expansion we have set up a company in Estonia and are working on entering Lithuania and Poland to boost our loan origination capacity'.
These new loans make an interesting addition to the property backed loans Mintos already offers in Latvia.
If you want to invest into these new loans consider these tips:
I think some of the loans are offered with LTVs that are really high, considering that there is no track record so far. For starters it might be a good idea to concentrate on loans with an LTV of 60% or lower, at least until there are some experiences with defaults and collections
If you want to target these loans by autoinvest, you can do so by either selecting the collateral type in the expanded filter, or the region (or both) – see pictures.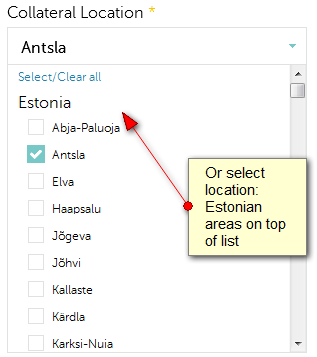 If you are inside the Eurozone it is fast and convenient to deposit money via a SEPA transfer. If you are depositing to Mintos from outside the Eurozone, you might want to consider using Currencyfair or Transferwise.