P2p lending site Smava.de for the first time reached more than 1 million Euro (approx. 1.4 million US$) loan volume funded in one month. One factor contributing to this is that Smava is in the top 10 rankings for German Google search results for the keywords kredit (engl. loan) and kredite (engl. loans) since the end of May. I find it interesting that there is not one single bank site in the top ten for these search results.
Furthermore Smava profited form TV exposure, which also helped its competitor Auxmoney to achieve a record month with approx. 130,000 Euro loan volume.
In international comparison by p2p lending loan volume funded per month, Smava is in the top 5 behind Virgin Money, Kiva, Zopa UK and Lending Club.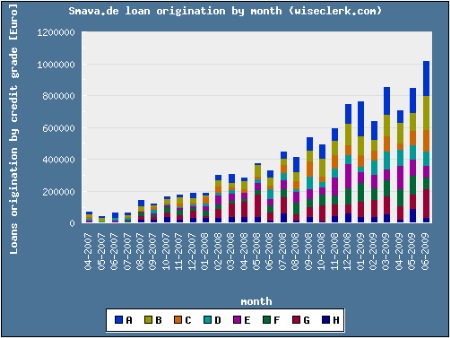 (Source: Smava p2p lending stats; A-H are credit grades)