P2P Lending site Prosper.com changed its business model today.
The company announced: 'Our site has a new look, and we've eliminated the auction and simplified our loan process so that we can connect lenders and borrowers more efficiently. Borrowers will receive pre-set rates and lenders cannot be outbid. We hope you'll appreciate this streamlined and even more prosperous experience.'
Prosper is still lagging far behind competitor Lendingclub in monthly loan volume funded. While Prosper's new loan funding process resembles the one of Lending Club more after Prosper did away with the auction it remains to be seen if it will help Prosper to regain market share.
The main problem of Prosper was not the auctions, but high default rates leading to lender churn.
Another change, according to a recent SEC filing, is that Prosper now allows partial funding of loans.The current interest rates set by Prosper are: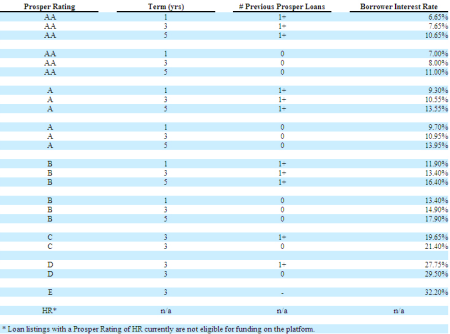 Prosper says they will review and change interest rates monthly dependent on market conditions.