MyC4.com accelerated growth during the past month. This is shown by stats on MyC4Stats.com (provided by Wiseclerk.com) showing the loan volume by origination month. Compared to earlier months the loan volume rose sharply in December and January. In December 150,000 Euro loans and in January 250,000 Euro loans were disbursed to African entrepreneurs.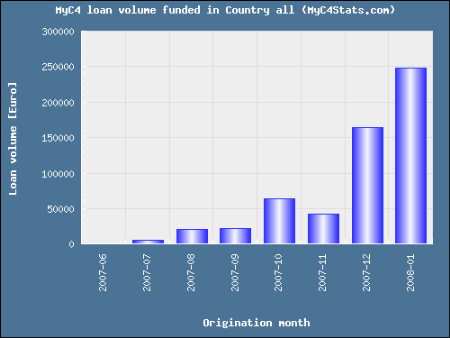 (Source: MyC4Stats.com)
The new MyC4Stats page offers reports helping lenders to find open MyC4 loan listings with the best rates. At MyC4 – unlike at Prosper – every lender funds a loan at his individual interest rate. In fact 50 different lenders funding one specific loan may each earn different, self-set interest rates. While MyC4 sets a maximum for the weighted average interest rate for each loan, it is still possible for an individual lender to bid higher and earn more after funding.
Example: A 2500 Euro loan to Clementine Gbrou, who exports grains to Europe the maximum weighted Wanted interest rate was 12% (lender interest, not borrower). This loan closed with a weighted average interest rate of 11,64% (lender interest). The individual lenders in this loan earn DIFFERENT selfselected interest rate between 3% and 13.5%. Several lenders thus achieved above average rates.
How to find the best loans?
To select the loans with the best rates for bidding in the listing phase a quick overview of available listings sorted by the maximum possible interest rates that can be bid, is important. Several tables on MyC4Stats help lenders on this. Sample screenshot:

(Source: MyC4Stats.com)
The report presents the listings sorted by maximum interest rate (column Maximum bid) that can be bid and states the Euro amount above this rate that serves as a buffer before being outbid. The buffer is caused by the rule that new bids must always be place at least 0.5% lower then the current high bid.