Karl Rabeder was a successful entrepreneur and rich. But being a millionaire did not make him happy and he was seeking a purpose in life. So he sold his villa in Austria, his house in France and his 5 sailplanes and moved into a small 1 room apartment in Innsbruck.
Now he dedicates his time to the p2p microfinance non profit he founded: MyMicroCredit.org. MyMicrocredit enables lenders to fund loans to needy persons in Latin America, Asia and Africa with the objective to become self-employed. Currently MyMicroCredit partners with the MFI Apoyo Integral in El Salvador, Nicaragua, concentrating on funding education projects for agriculture teachers.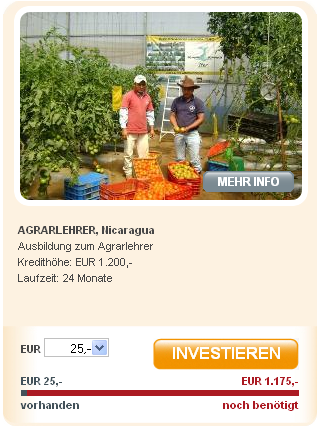 I contributed 25 EUR towards a 24 months loan. The website display of projects (see left) bears resemblance to Kiva. No registration is necessary to lend. This allows fast and easy funding but has the disadvantage that lenders cannot login to see a portfolio of what loans they did fund.
Lenders will by notified be email upon repayment of a loan and can then decide to reinvest or withdraw their money.
(Sources:Â Chrismon, P2P-Kredite.com)