This is part 4 of a series of guest posts by British Bondora p2p lending investor 'ParisinGOC'. In part 1, part 2 and part 3 published in December 2014 you could read how he used the data to built decision trees to identify lending opportunities. Now you can read how that strategy worked out.

Introduction
In August 2014, I realised my portfolio of P2P loans at Bondora was not performing as I would wish. There was an urgent need to change the way I selected loans in which to invest the money I had at my disposal. My search for a better way of selecting loans lead me to use Decision Trees to analyse the loan data available from Bondora using "RapidMiner" – software available to download for free.
It is now over 6 months since I described my original work to construct the Trees. This follow-up article chronicles what I believe is the success of my efforts to date whilst also describing the multiple factors, both within and beyond my control, that mean that, whilst I feel very comfortable with the progress made to date, others may feel that I have just been lucky!
The journey since I created my first Decision Tree and started to make purchasing decisions based almost totally on their outputs has been one of constant change. Detailing the changes to elements over which I have no control has shown me how they contribute to what I believe is success as much as my own efforts to improve the selection processes. Describing the change in the Decision Trees as well as their use in the dynamic Bondora environment has left me feeling that, without constant monitoring and review of both the process of creating the Trees as well as their use, it may still be very easy to snatch defeat from the jaws of victory.
Key to ensuring the veracity of my protestations of success has been the maintenance of a consistent approach to my selection and lending process. To this end, I will describe those changes to my process that I can control and explain how and why such changes have taken place. In short, I have maintained a restricted buying policy, investing only the minimum amount (5 Euros) at any one time and, latterly, only buying a maximum of 2 loan parts (of 5 Euros each) in any one loan, depending on the outputs from the Decision Trees and my own mood at the moment of purchase.
I realise that this last phrase is not at all scientific, but the fact that my Portfolio of c.12000 Euros was not performing as expected was for me, a non-trivial affair and some emotional response has to be accommodated.
I have already stated that I believe my efforts have been successful. This is based on the fact that the rate of default (Once a loan principal has been overdue for 60+ days, it is labelled as "defaulted" – Bondora FAQ) in my portfolio has returned to historical, pre-2014 levels. Up to this time, even though I had come to realise that I needed to actively manage my portfolio, my selection of loans was done almost entirely using the "Portfolio Manager" – an automated, parameter-driven purchasing function provided by Bondora and supplemented by instinctual analysis of the descriptions of the Loan Applications available to invest in.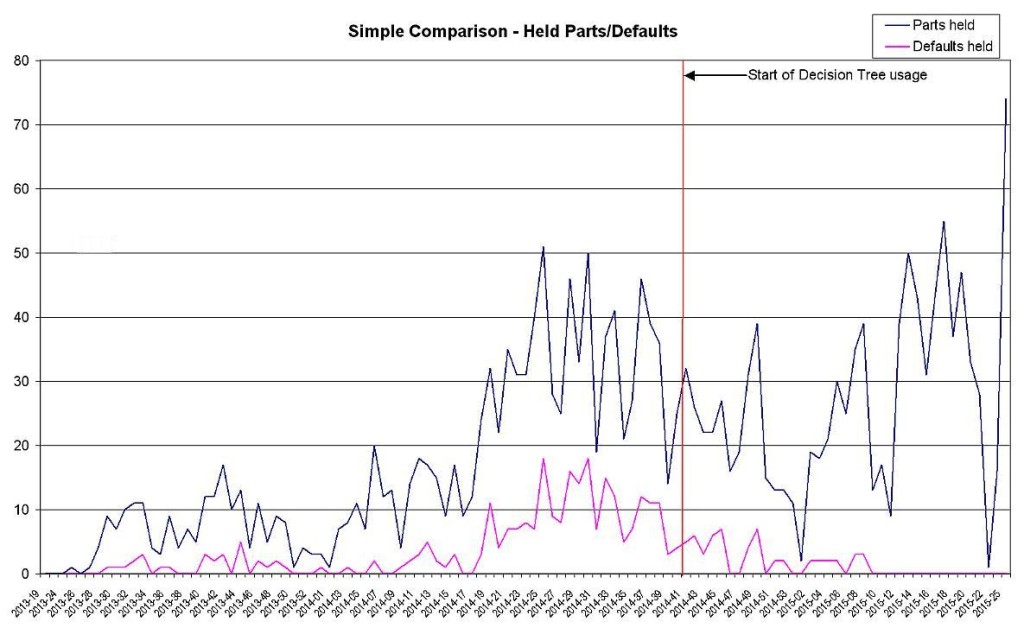 Looking at the simple chart of Held Parts/Defaults, the number of defaults in held loans rose significantly over the summer of 2014, coinciding with a big increase in both the number and value of investments on my part. Referring to the same chart, it can be seen that, even though the number of investments remains close to summer 2014 levels, my defaults have fallen to the numbers experienced earlier, at much lower volumes.
With my new-found confidence that I have a process for selection and management that appears to be sound, I have started to increase the volume of Loan Parts purchased so that the value is now approaching Summer 2014 levels of investment.
Progress to date
Graphical representation of Progress
I will use a more detailed graph showing the volume of Loan Parts purchased, those subsequently sold, those "Overdue" and those in default (still held by me as well as sold) to hopefully illustrate the performance of my selection and management processes. Continue reading →