This week the new social lending service Veecus.com launched. Veecus is a peer-to-peer microfinance network. It allows microentrepreneurs from all over the world to access funds to develop their projects. Lenders can select projects, invest and take part in economic development.
Microfinance institutions (MFIs) supply the loan listings and set the interest rates. Currently there are two MFIs active (VSSU and Oasis Microfinance), which list loans in India and Cameroon offering 3% interest rates.
Lenders can bid in multiples of 20 Euro. Currently uploading money is done via Paypal. Credit card payments will become available next week.
Veecus is run by a french limited company, run and owned by the co-founders Clément Carjat and Baptiste Fabre. Veecus will make money from a "volume-based fee paid by microfinance institutions once they
have received funds for microentrepreneurs projects." as well as a 1 Euro one-time signup-fee from each lender.
The site is available in english and french language (the company blog is in french only). If you have tried Veecus please share your experiences with the community in our Forum.
The concept has similarities to Kiva and MyC4.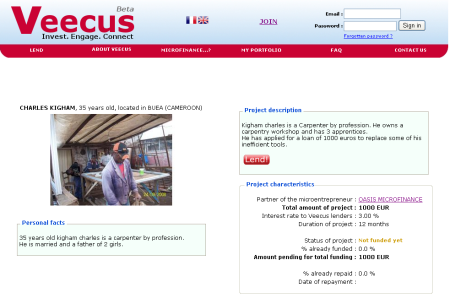 Image: One of the current project loan listings.