Compared to other European markets the Swiss p2p lendng market has been late in developing. Regulatory hurdles and an upper limit on interest rates for consumer loans of 10% (12% for card loans) have slowed development of the market. But it seems that real estate loans finally delivered a break through in 2019-2021.
The new study 'Marketplace Lending Report Switzerland 2022' by Simon Amrein, Nadine Berchtold and Andreas Dietrich of Lucerne University delivers a detailed analysis of the market.
According to the report there are currently 14 platforms active in the market:


Source: Marketplace Lending Report Switzerland 2022, p. 7
Several banks and insurances have taken stakes in platforms:
Funders is operated by the Luzerner Kantonalbank and licensed to other cantonal banks
The Lendico platform was acquired from PostFinance by Lend (Switzerlend AG) in 2019. PostFinance has acquired a stake of Lend in a reciprocal move.
Neocredit was launched in 2019 by French platform credit.fr and the insurance company Vaudoise. Since 2022, the Vaudoise Group has been the sole shareholder of neocredit.ch
In December 2021 the Basellandschaftliche Kantonalbank bought a stake in swisspeers AG as a strategic investor.
According to the report the p2p lending segment reached a record volume of 607 million CHF new loans in 2021 with a growth rate of 35.5% from 2020 to 2021. The largest share 418 million CHF went to real estate loans. The major driver were loans to companies in the real estate business. Many of these loans are issued as short-term credits to be later redeemed by banks.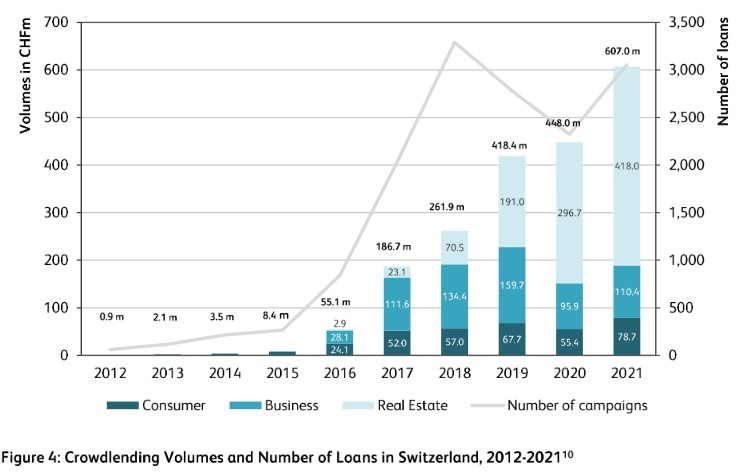 Source: Marketplace Lending Report Switzerland 2022, p. 8
The study finds: 'The COVID-19 crisis in 2020 has been one of the biggest crisis in Switzerland during the last decade. Despite increased default rates , the returns both in the consumer and the SME segment remained positive and recovered in 2021. The current situation remains challenging for the economy and financial markets, given the high inflation and rising interest rates'.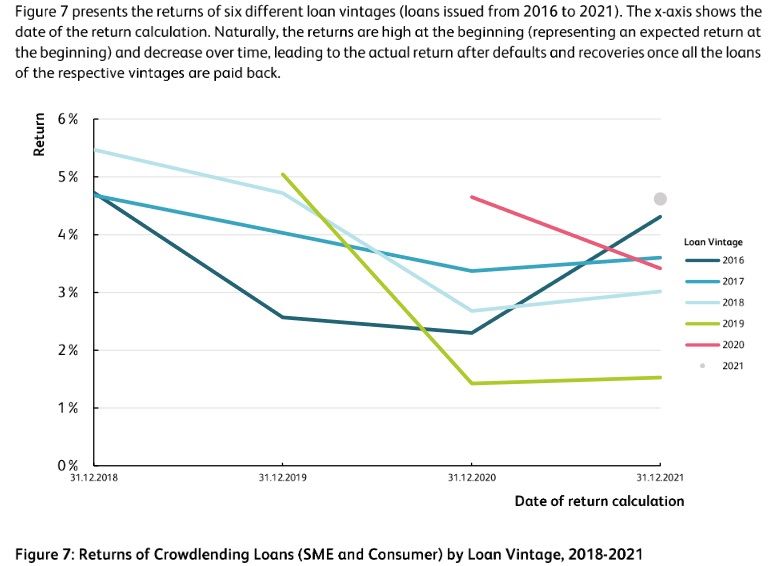 Source: Marketplace Lending Report Switzerland 2022, p. 11
The study has several conclusions, some of which are:
Rebound effect after COVID crisis: 'Before the .. crisis returns … were high and risk – measured by default rates – low. The crisis was an important test, providing investors with a realistic risk and return profile of the asset class'
Changing interest rate environment is a test for online business models
Sustainability is increasingly becoming a topic in the debt market
More transparency, more relevance: '… Increased relevance will require more transparency in the market … for institutional and private investors'