This is a guest post by Hungyi Chen, Ph.D. candidate at the Graduate School of Law, Nagoya University. He is researching alternative finance in East Asia.
1. Relevant Background
Internet finance, including (1) online stored payment by non-bank, (2) crowdfunding and (3) peer-to-peer lending becomes hotly debated issues in Taiwan recently. To boost the development of financial innovation, the regulation of online stored payments by non-banks was already implemented on January 2015 after discussions and debates between financial authority and platforms. Besides, a regulatory framework for equity-based crowdfunding has also been enacted in the end of April 2015 and amended in the early of January 2016.
In order to encourage and accelerate the development of fintech industry in Taiwan, the financial authority, Financial Supervisory Commission (FSC) of Taiwan, has published Fintech Development Strategy White Paper on May 2016[i]. One of main goals is evaluating the possibility of introducing the mechanism of P2P lending into Taiwan's capital market and providing a regime for regulating this industry.
Some business models of P2P lending are forbidden due to conflict with The Banking Act[ii] in Taiwan. Recently, it is considered to be introduced in Taiwan and evaluated by the recently established project team of the financial authority in Taiwan, Financial Supervisory Commission (FSC)[iii]. Despite the fact that the attitude toward P2P lending industry of financial authority in Taiwan is still vague, as of July 2016 there are three P2P lending platforms already providing their services in Taiwan, including Lend & Borrow[iv], Wow88[v], XiangMinDai[vi]. They have tried to design their business model to avoid potential legal risks. For better understanding of the P2P lending industry, this article tries to provide a brief regulatory overview of Taiwan in following part.
2. Regulatory Overview of P2P lending
Currently, there is no any specific regulation toward this industry in Taiwan. Recent official document[vii], indicate that the business model of P2P lending in Taiwan should avoid to involve in any activities of accumulating capital from general public or issuing any securities. XiangMinDai, a P2P lending platform in Taiwan, has analyzed by FSC of Taiwan. The former chairman of FSC of Taiwan, Ms. Wang, has stated that '…the business model of XiangMinDai is majorly providing services of debt transaction, which does not involve in activities of depositing or charging fund. Accordingly, it is not the regulatory scope of FSC at this moment…[viii]'
Although there is no any financial regulation of P2P lending in Taiwan, Banking Bureau of FSC has issued a statement[ix] on April 14, 2016, pointing out some legal compliance issues for P2P lending platforms, including (1) platforms should not involve in issuing any securities, (2) ensure privacy of customers, (3) activities of deposit and store-value business without licenses are forbidden, (4) illegal ways of debt-collection is forbidden.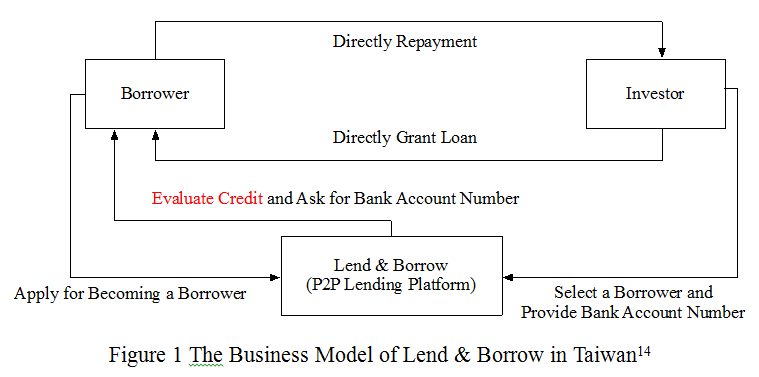 Within 2 weeks, Banking Bureau of FSC, announced another statement[x] for supplement, indicating that (1) the interest rates of the case on the P2P lending platform is 30.15%, which may be illegal according to Criminal Act in Taiwan[xi], (2) legal concern of breaking the law of Multi-Level Marketing Supervision Act[xii] and Fair Trade Act[xiii]. Continue reading →