I interviewed Jana Mücková, Relationship Manager at Bondster* (see her bio at the end of the article). By registering via this link and entering promotion code 5506 new investors get 1% cashback on all investments in the first three month.
What is Bondster about?
Bondster is one of the fastest growing fintech companies in the field of P2P (Peer-to-Peer) loan marketplaces in Europe and the very first online investment platform of its kind in the Czech Republic. Bondster connects providers of loans with retail investors. Investors (individual or companies) may invest their free funds into loans already provided by different providers. Investors can choose from different types of loans, maturity, security, providers. Investors can also see the repayment history of the debtor to whom the loan had been provided and they can also see the basic information about the debtor.
What are the three main advantages for investors?
The biggest advantage is definitely high returns on loans. Moreover, these loans are either secured (by real estate or movables) or offered with a Buyback Guarantee (in case the debtor does not repay the loan, the provider has to buy it back from the investor) which eliminates the risk for investors. Imagine your money sits in the bank account, you lose money in real terms every single day since the inflation rate is higher than the nominal interest rate on your bank deposits. On Bondster investors can earn more than 11 % on Euro investments in average. Do you know a bank that could offer you such a return?
Bondster also offers loans with unique features such as Exit from the investment or Guarantee of Liquidity. This is especially popular with Investors that are more risk averse and prefer more liquid investments. Exit from Investment means that the investor can get back the outstanding principal at predetermined points in time after the investment had been executed (after a week, month, half a year etc.) for a predefined fee. Guarantee of Liquidity allows investors to withdraw the invested amount (outstanding principal) any time for a predefined fee.
From what we have learned from our investors, our choice of Providers is really appreciated. We carefully choose our partners. Providers we cooperate with are always either well established companies in the local markets with a very good track record, or younger companies but with huge potential and experienced people with strong professional background in the management.
What are the three main advantages for loan providers?
Our partners can benefit from alternative and flexible financing we offer. In case a provider needs for example some extra funds for its development, he can upload an extra tranche of loans to our platform and receive these extra needed funds from our investors without any additional administrative burden or costs. This is a huge advantage for providers because applying for a business loan in a bank or negotiating with and raising money from big institutional investors takes much more time and is often also more expensive.
Our onboarding and due diligence process are on one hand very complex, but on the other our team is always willing to help, assist and explain and we usually manage to complete it within a few weeks.
Our team really likes challenges, and this is why we are so flexible. We always try to find tailored-made solutions.
What ROI can investors expect?
The average return on Euro investment is now 11,49 %, on Czech investment it is a bit less around 9,32 %.
How does Bondster attract, select and vet new loan providers?
… We got to the stage when the providers approach us by themselves. They learnt about us through P2P forums, blogs or influencers and realized that they can be more visible on Bondster than on other older platforms. Generally, we look for strong and established partners in the local markets or strong groups operating in several countries. We now negotiate with providers outside EU to offer our investors new opportunities for diversification.
Can you please tell us a bit about your background and the team's background?
Well, our team has 10 members with a professional background in banking, IT, portfolio and project management, and customer care. I personally worked 5 years in banking sector which is quite rigid environment. I needed more space for my ideas. I am a kind of person that is never happy because there is always something that can be improved, right? I think I drive my colleagues at Bondster crazy sometimes because of that, but online marketplace is that kind of business that has to be always challenged and innovated to follow current trends and that is exactly why I love it.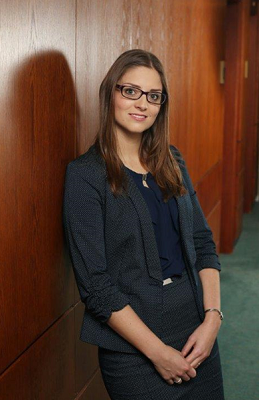 Is the technical platform self-developed?
Partially yes, but we also outsource. The technical development of the platform is secured by one Irish company with a long-term experience in developing innovative software for banks.
How is the company financed? Is it profitable?
Bondster is fully owned by the Czech investment company CEP Invest Private Equity. At this stage, we invest all the available funds and energy into development. We want to create a platform that is not only user friendly, but also offers something extra. We want to be better than our competitors and that is why we value our investors´ ideas and appreciate their recommendations.
What were the main challenges when launching your platform?
The biggest challenge was to find the investor and a strong business partner. It is not only about the money, it is also about the expectations and philosophy. We really appreciate that we managed to attract CEP Invest Private Equity as an investor and ACEMA Credit Czech, a.s. as our strategic partner because they profess the same values. They helped us develop and also expand to foreign markets and we are very grateful for such an opportunity. Â Another challenge was to find right people because here at Bondster we believe that the strength of a company is in its people.
I know that Bondster attracts investors from the whole EU. But you also have loans in CZK currency appealing to local investors in the Czech Republic. Do you observe any difference in the investment approach/attitude of Czech investors compared to other nationals?
Well, Czech investors are generally more careful, they start with small amount to test the platform and its operation. Investors from Western Europe usually invest higher amounts from the very beginning.
What are your next plans? Can you share some interesting developments that are currently in the making?
We are now preparing in cooperation with one of our European providers a limited offer of loans for 15 %. This will be launched at the end of April [April 30th]. We are also preparing new features for autoinvest and new settings of filters. The long-term goal is to launch our own mobile app for investing. During summer we would also like to launch the currency conversion for investors as we have a growing number of investors from countries outside Euro zone and we want to give them an opportunity to easily convert money through our platform. And as I said before, we would like to continue working on new providers outside EU to offer enough diversification possibilities.
Where do you see Bondster in 3 years?
Our goal is to have 20,000 investors, 60 providers and EUR 80 million of loans on the platform in three years. We would like to top up with our competitors and maybe even overcome them. It would be great if we would manage to become one of the 5 best P2P platforms in Europe. We will work on simplifying our services and innovating our platform and IT solutions to serve the best to our investors.
P2P-Banking.com thanks Jana Mücková for the interview.
Jana is a Relationship Manager, she manages an international team responsible for acquisition of new providers. She studied at two prestigious Asian universities and previously gained working experience in banking and export support. She is also a leading economist of Bondster.