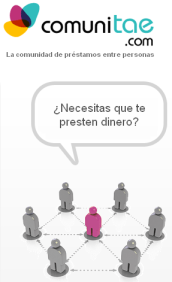 Comunitae gets 2 million Euro funding from Entrinnova to establish itself as a p2p lending service in Spain.
Comunitae will allow loans between 3,000 and 15,000 Euro for loan terms of 1 to 3 years. The amount that lenders can lend will be up to 50,000 Euro (minimum 50 Euro). Only residents of Spain will be able to use the platform.
Founded by José Miguel Rotaeche and Arturo Cervera, both ex-bankers at BBVA, Comunitae aims to launch in mid 2009. The name is derived from "Comuni" for a group of persons and the spanish abbreviation "TAE" for interest rates.
(via Loogic.com)