Polish P2P lending market Kokos.pl announced today a new product – SMS loans coupled with prepaid MasterCard PayPass card. The product is targeted at borrowers who do not want to set up regular listing, but need quick "liquidity injection".
The procedure of applying for SMS loan looks as follows:
Borrower receives prepaid card by post,
Enters the card's account number and his verified cell phone number in his profile,
Whenever the user wants to borrow money, he sends a text message with the required amount and keyword ("pozycz" – borrow) to number 7550,
Kokos.pl sets up an 48 hours long auction on behalf of the borrower,
When the auction is fully funded, the borrower's prepaid card is topped up immediately and he gets SMS notification.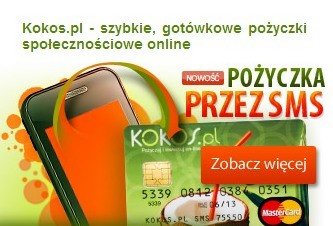 The terms of SMS loan contracts are predefined. The amount is 500, 1000, 2000 or 3000 PLN, interest rate is locked at 20% p.a. (interest rate cap enforced by Polish anti-usury law) and the duration of loan is limited to 12 months.
The prepaid MasterCard is issued by Bank BZ WBK (owned in 70% by Allied Irish Bank). It is equipped with PayPass technology enabling contactless transactions at the point of sale.