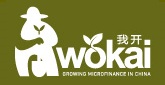 Wokai.org launched today. Wokai allows contributers to aid small entrepreneurs in China through microfinance. A month ago I wrote a preview about Wokai.
Here is what founders Casey Wilson and Courtney McColgan wrote about launching:
Dear Friends,

We are delighted to report that Wokai.org is now live! Just two years ago, we were students in Beijing, dreaming about starting a microfinance organization.

Now, thanks to our advisors, chapters, designers, donors, families, field partners, friends, interns, investment committee, lawyers, pilot participants, programmers, volunteers and so many more, this idea has transformed into a dynamic international organization with an amazing website, to empower people in China to lift themselves from poverty.

We needed you and you were there, and for this we can't thank you enough. Over the next two years, 44OO families from all across rural China will receive loans through Wokai. These loans will enable people to start and grow businesses in their communities. With the proceeds, they will send their children to school, and invest in their housing and health and brighter futures.

In the words of an entrepreneur we met in Ningxia province, "Microfinance allowed us to go from existing to living … existing is merely finding enough food to eat, but living is truly feeling the substance of life, our hearts, and minds."

Thank you so much!