Below is a map of the p2p lending landscape in the US and Canada. It shows active and discontinued p2p lending services (including p2p microfinance).
The fastest growing services are Lending Club, which funded 12 million US$ new loans in August, and Kiva. Prosper's growth is stagnating. Other US based services are Vittana, United Prosperity, Zidisha (all microfinance) and People Capital (student loans). CommunityLend is the only p2p lending site active in Canada.
All of these marketplaces have been featured earlier in the P2P-Banking.com blog. If you want more information about any of them just enter the company name in the search box on the top right of this blog.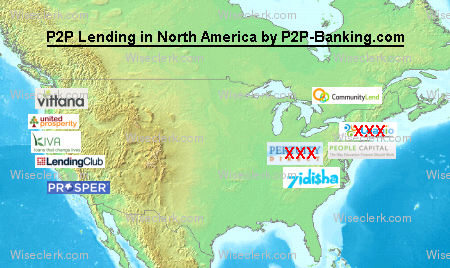 Notice to other websites: You are free to copy and use this map, provided you agree not to alter or resize the image and you will set a link to this article.
Related resource: P2P Lending Sites in Europe (Map)