LendingCrowd has secured an external funding round of 2 million GBP following a strong 2017 for the p2p lending company, with the proceeds earmarked for ramping up its sales and marketing activities.
The round was led by angel syndicate Equity Gap and included a number of private investors from Scotland's entrepreneurial and finance scene, and the Scottish Investment Bank. The company says it is on track to scale significantly during 2018 and intends to seek Series A funding over the next 12 months.
As part of its drive to build market position, LendingCrowd this month launched its debut television advert, designed to bring the opportunities available through P2P lending to a wider audience. The advert features Geoff, who decided to "Think Outside The Bank" and invest with the platform after becoming disillusioned with the low rates of return on other investments.
LendingCrowd has originated loan deals totalling 16 million to SMEs across Britain in the past 12 months period. For 2018, CEO and co-founder Stuart Lunn has set a target to more than double loan deals to around 40 million GBP. New clients in 2017 included Summerhall Distillery, producer of award-winning spirits brand Pickering's Gin, restaurant chain Tony Macaroni and property lettings agency Umega Lettings.
Investor funds on the platform have grown rapidly, with much of the expansion attributed to the launch of one of the first Innovative Finance ISA (IFISA) products in February 2017. After a full 12 months of opening the LendingCrowd Growth ISA, 82% of investors have beaten the advertised 6% target return.
LendingCrowd, which is fully authorised by the Financial Conduct Authority, has over 4,500 investors signed up to its platform and is on track to significantly increase investor numbers this year. It now offers three IFISA products ­– the passive Growth ISA and Income ISA, and the active Self-Select ISA.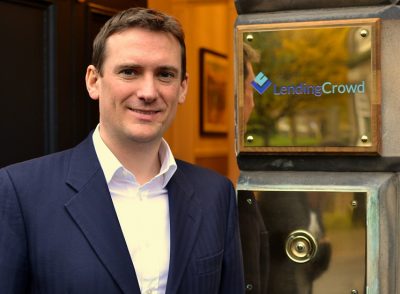 Stuart Lunn, LendingCrowd CEO and co-founder, said: "Having laid solid foundations for the business over the last couple of years, we now have a position in the market that is starting to pay dividends. We have a strong pipeline of both investors and SME demand and with such a strong trajectory, we are now actively speaking to the venture capital and private equity communities about our next phase of growth."
Jock Millican from Equity Gap said: "We are extremely pleased that our syndicate members once again backed LendingCrowd, with this raise being the largest single investment by Equity Gap to date. Existing and new investors in LendingCrowd recognise the progress to date and the potential for the business to scale."
Kerry Sharp, Director of the Scottish Investment Bank, commented: "We are delighted to provide continued support to LendingCrowd who have demonstrated real market traction with their innovative peer-to-peer lending platform in Scotland."