Silver Bullion Pte Ltd in Singapore reported today, on the anniversary of the launch of their bullion secured peer-to-peer(P2P) loan platform, that the platform has funded over S$11 million across more than 400 successfully matched loans. There were zero occurrences of borrowers defaulting on their loans. One hundred percent of lenders, with loan tenures expiring within the first year, received their principle with interest on time.
Launched on 5th August 2015, Silver Bullion offers a p2p marketplace that allows borrowers to obtain a loan using physical gold and silver bullion as collateral. This gives lenders, seeking a good rate of return, confidence that their investments are safe.
Silver Bullion's CEO, Gregor Gregersen, commented: 'The first year results of our P2P loan platform shows that owners of physical gold and silver like to have the option to be able to borrow short term funds at good rates with the bullion that they store with us. Now, they are able to reinvest with the borrowed funds whilst continuing to own bullion and benefit from rising gold and silver prices.'
P2P-Banking.com conducted an interview with Gregersen earlier this year.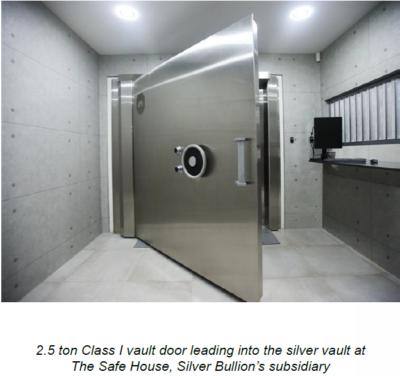 Due to the safety that Silver Bullion's loan platform gives to lenders, 72% of the matched loans were initiated by borrowers. The company has seen more than 30 loans matched consistently each month since March 2016 – a rate of more than 1 matched loan per day. Interest rates across all loan tenures currently hovers between 2.5% and 4.5% per annum.
Unlike unsecured P2P lending platforms, loans matched by Silver Bullion's lending platform are fully backed by physical gold and silver. Loans with tenures longer than 6 months begin with a collateral-to-loan value of 200%. The exceptions are loans with the 1 month tenure which have a lower collateral-to-loan value of 160%.<
Borrowers' collateralized bullion is stored at Silver Bullion's vault, The Safe House. They are covered by one of the most comprehensive insurance policies in the industry that also insures against inside jobs and any unexplained losses.