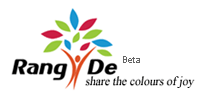 Indian non-profit RangDe.org attempts to bridge the gap between the developed and the developing India. To fight poverty it wants to make microcredit available to everyone at affordable rates. Individual lenders (investors) can lend as little as 1,000 Indian Rupees (approx. 21 US$).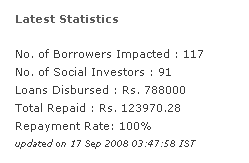 Lenders can select a borrower by browsing profiles. RangDe's field partners receive and disburse the loan to the borrower, which pays a fixed interest rate of 8.5%, of which the field partner receives 5% and the lender receives 3.5%. Lenders need an Indian bank account to participate.
According to their blog, RangDe evolved over the past 7 months and launched the current version of the website in August.
RangDe aims to finance itself by generating advertising revenues.
RangDe was financed by a 6,000 US$ investment of the founders along with a 33,000 US$ loan by a group of engineers. Additionally India's ICICI Group's Foundation for Inclusive Growth has agreed to pay for RangDe's operations for a year. (Source: Microcapital.org)
Meanwhile Indian p2p lending startup dhanax, which was covered earlier (see: dhanax brings p2p lending to india). received funding from Morpheus Ventures. (Source: WatBlog)