Today I gained another 1,7% after selling an investment that I did held only a few days. I started using the Spanish property platform Housers in the beginning of August. On Housers investments into property in Spain and Italy are listed. Mostly the offered structure is that investors will benefit from rent income from the property and also capital gains achieved, if the property is sold at a higher price at the end of the investment period. The concept will sound familiar to those that are using the British platfrom Property Partner. But there are other offer types too, including fixed interest investments. The minimum investment is 50 Euro and terms range from 12 months to 5 years and longer.
There is a lot of information and statistical data about the properties and the property market in that town and neighborhood. The platform is easy to use. After signup, the investor needs to upload scans to verify identity and to connect a bank account. Deposits can be by bank transfer or credit card. I made a small withdrawal of 0.50 Euro via SEPA transfer to test withdrawal and the money arrived after 2 days in my bank account.
Current bonus: Sign up via this link and get 50 Euro bonus when you invest 50 Euro. Ends today (August 31st)! The bonus can only be invested, not withdrawn.
Additional cashback of 1% on all credit card investments (you see that after you select a property to invest into. Ends today (August 31st).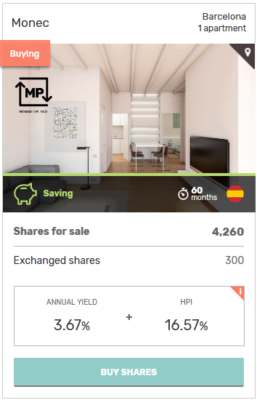 Housers has a secondary market. Only properties in the "Saving" category can be traded – with the "MP" logo style mark. Sellers can set a premium (or) a discount. When I started in the beginning of August I had 50 Euro invested in the Monec property (pictured right) and wanted to try out selling. So I listed that at 1.74% premium and was astonished that it sold quickly. I had exited that investment only 8 days after making the bid. Granted the absolute profit was not spectacular: 78 Cents (50.87 Euro sales price minus 0.09 Euro sales fee – Housers charges 10% of profits), but it was 1.56% profit in 8 days. Mathematically that is an (X)IRR of 102%, but of course one can not calculate it that way as a reinvestment without breaks will not be possible and not every time a buyer will snap the part that quickly.
Nevertheless I got curious, if I could scale that somewhat and employ a strategy of flipping, that is investing and then selling fast at a premium. I invested in more parts of an Italian property opportunity ("Breda" in Milan). Yesterday the secondary market for this opportunity opened, and today I sold the first 100 Euro part for a 1.89% premium. I have listed the next 100 Euro part for 1.99% premium now.
There are three main factors for selling in my view:
Premium (typically buyer will buy the part currently listed at the lowest premium)
Part size: only full parts can be bought. I would expect it to get harder the larger the part is (but the seller can list part of his total holding, as long as it is at least the 50 Euro minimum)
availability of other offers, especially on the primary market
I have yet to experience a time where there are no offers on the Housers primary market. It will be interesting to see how that effects demand on the secondary market.
The majority of investors is from Spain, but Housers says there is large demand from investors from Latin America, too. I like the platform interface, it is easy to use. The UI is available in Spanish, English and Italian language.
Another property investment platform in the Eurozone offering a bonus is Estateguru. If you register via this link, you get 0.5% cashback on all investments in the first 90 days. Investments on Estateguru are into secured loans, not equity.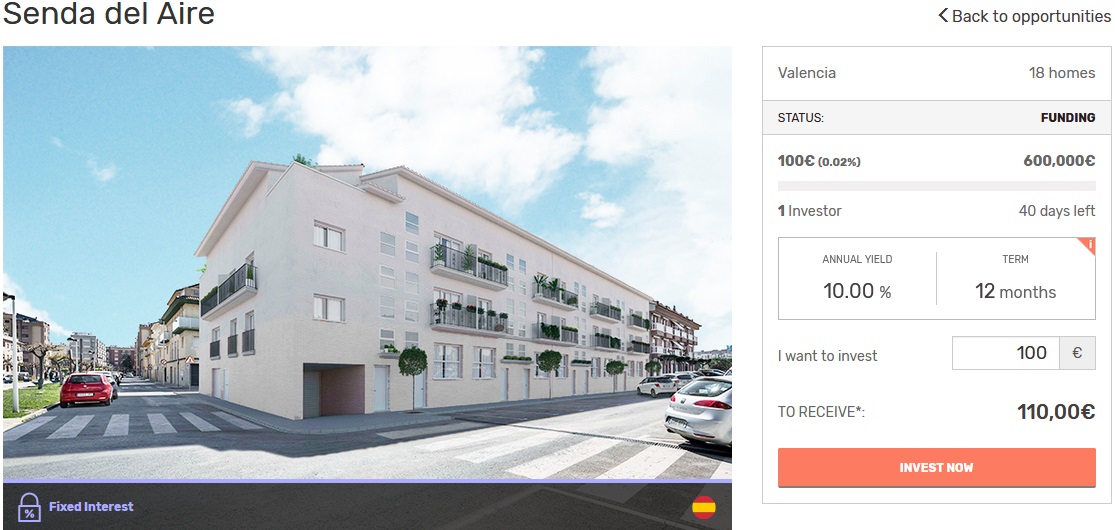 One of the property investments listed on Housers in the past