This week some investors on the p2p lending marketplaces Viventor*, Grupeer* and Mintos* are affected by issues that hinder the normal procedures on these marketplaces.
Viventor started to display the following warning message yesterday (visible only if you click on an affected loan)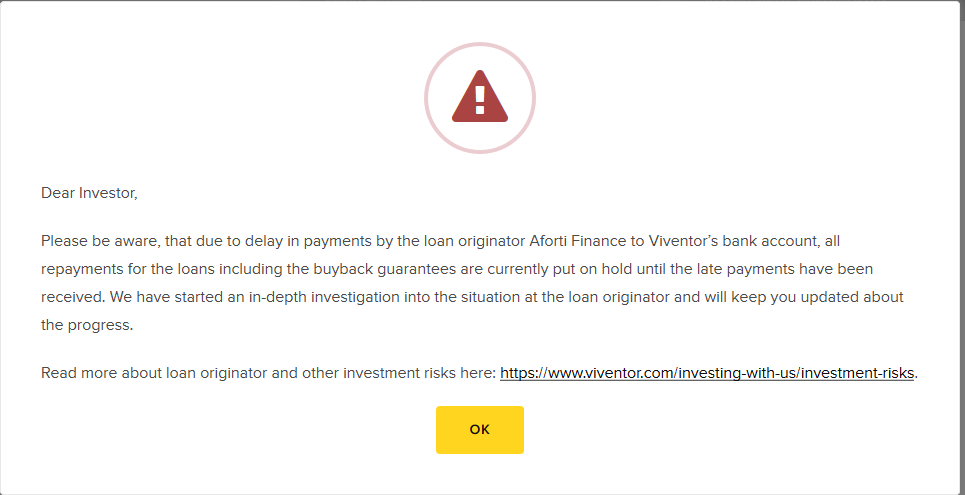 (Screenshot from Viventor.com)
As a result, multiple Aforti loans were on offer on the secondary market for 5 to 15% discount (at one point in time I saw 35% discount)
Asked for a comment, Viventor CEO Andrius Bolsaitis told P2P-Banking.com:
According to information that we have now, they have some cash management issues, we are in discussions with them and hope to resolve the situation soon. I will be personally meeting with their managers tomorrow in Warsaw and will have more updates then.
Update 14:02: Apparently Mintos has now suspended trading of Aforti loans on the secondary market. I reached out this morning to Mintos' management for a comment on how they see the situation with Aforti.
Update 14:42: Reply from Mintos CEO:
Hi … ,

Thank you for your email.Aforti is overdue on passing to Mintos payments which Aforti has received from borrowers and payment for buybacks. Thus, we are suspending repayments and buybacks. We are meeting Aforti tomorrow in Warsaw and will update investors accordingly. Below excerpt from communication to all investors:
Mintos has suspended automatic repayments and buybacks for loans originated by Aforti Finance on our marketplace (EUR and PLN).
The decision was made based on Aforti Finance's overdue transfers of borrower's payments to the Mintos marketplace.

In order to protect the interests of our investors, all loans issued by Aforti Finance have been removed from the primary and secondary markets of the Mintos marketplace. This means you cannot buy or sell Aforti Finance loans, effective immediately until further notice.
Update 16:02: Statement from Aforti Holding:
Dear Sir,

In response to the questions regarding the message released by Viventor, we would like to inform you following.

We are currently at the stage of closing cooperation with the Viventor platform, what has been announced to Viventor. Situation suggested by Viventor is a result of change in Aforti Finance S.A business strategy. Our decision is determined by technical difficulties in cooperation with Viventor platform. Also cause most workload has to be done manually, our operational risk increased significantly. This is what we want to avoid, cause AFORTI business model and operational procedures are going rather in the direction of using API to automatize processes and to minimize human errors.

It's also worth to add, that we have not been using Viventor platform for new loans for about two last months, as a result of mentioned above decision. Of course Viventor receives daily financial transfers, so we do not see any reason for such a message.

Due to the fact that for tomorrow (Thursday, August the 8th ) we have scheduled a meeting with the Viventor, we believe all misunderstandings will be clarified.
Update Aug. 8th: the meetings are at 12:00/13:00 (Warsaw time)
Update Aug. 8th: Debitum Network* says investors on the Debitum platform are not affected as all Aforti loans were bought back on July 25th
Update Aug 9th: from Mintos*
Update Aug 9th: by Viventor
As previously announced the meeting with Aforti took place in Warsaw. The parties found a solution with regard to the technical issues. We consider the solution satisfactory for both sides and expect all issues to be resolved during next week.
Update Aug. 12th: Mintos now says they had an agreement with Aforti since January 2019, due to which Aforti would not place any new loans on the primary market. Strangely they only communicate that agreement now. Why not in January?
Our team is once again meeting with Aforti Finance in Warsaw, Poland today to continue to work out the details of last week's initiated solution for Aforti Finance to resume transferring borrower repayments to us for distribution among investors.

We aim to release the next more detailed update tomorrow.

Until then we thank you for your patience, as well as the questions to our Investors Service team and comments on the blog and social media. We are preparing to release answers to them as soon as we handle the current priority of resuming payments.

We also wish to remind that Aforti Finance has not been placing loans on the Mintos primary market since January 2019. It was a mutual agreement with Aforti Finance following a weaker than expected loan performance and IT system related issues. Aforti Finance has continued servicing the loans since then and the total Aforti outstanding loan portfolio on the Mintos marketplace has decreased from EUR 5.7 million on December 31, 2018 to current EUR 2.2 million as of August 12, 2019. In light of adverse changes in the mood on the Polish securitization and bond market as well as our due diligence insights on the company's internal arrangements changes, we reflected our risk precautions by downgrading Aforti to C+ in March 2019.

At this stage we remain committed to working with Aforti Finance to continue servicing loans and passing borrower repayments to investors on the Mintos marketplace as soon as possible.
Update Aug. 12th: I have analysed the Mintos loan data and came to the result that the last Aforti loan, was listed on January 2nd on the Mintos primary market.
Update Aug. 13th: Several investors report that they received a repayment incl. late fees on this Aforti loan on Viventor today.
Update Aug. 14th: Mintos has announced that Aforti payments have resumed as of today. Aforti loans on the secondary market stay suspended.
Update Nov. 6th: Viventor has issued the following update:
… an update on the situation with the investments into loans issued by Aforti Factor S.A. and Aforti Finance S.A. on ViVentor platform, we want to update you on our actions regarding the repayment of loans, including the buyback guarantees, which were put on hold from the 6th of August 2019.
On August 12th, 2019 ViVentor has negotiated and signed Settlement Agreements with Aforti Factor S.A and Aforti Finance S.A. Each agreement contained a daily payment schedule which was designed to ease up the cash flows of the companies and make it easier for them to repay their outstanding debt at that time. Both agreements expired on September 13th, 2019. By then Aforti Factor S.A has managed to pay all of their outstanding debt and the debt of Aforti Finance S.A. has settled their debt from the schedule on November 5th, 2019.
However, new debt has been growing for both companies ever since and now we are taking all necessary actions, including legal ones to have the full amount paid of current and late dues and to protect the interests of our investors.
…
What is next?
Our team is planning once again to meet with the management of Aforti Finance S.A. and Aforti Factor S.A. to continue to work out the details and find solutions to resume transferring borrower repayments to us for distribution among investors. The meeting date and place are being settled right now. We aim to release the next, more detailed update on our cooperation and ongoing payments executions within a few days (after the meeting has taken place). We would like to assure you that your concerns are of the utmost importance to us.
---
Earlier this week on Monday, it became evident that the Lithuanian central bank had suspended the operations of Satchelpay (source), which Grupeer* used as one of two ways for deposits by investors. From Tuesday onwards Grupeer asked investors to use the alternate deposit method via Baltic international bank only and said that they will add new payment providers this week.
Asked by P2P-Banking what the status of investor payments is, that were made shortly before or on the day of suspension to Satchelpay, a Grupeer contact told P2P-Banking:
At the moment we are in contact with the bank and have received the information that all transferred funds will be returned to the account of the sender. However, we cannot provide you with the exact terms.
More detailed information will follow.
Hopefully both incidents will be resolved satisfactorily for investors. On both issues I see room for improvement on communications with investors.