What is Funding Societies about?
Funding Societies is a peer-to-peer (P2P) lending marketplace for small-medium enterprises (SMEs) to get loans to grow and investors to get good returns in Singapore. We pride ourselves on innovation, as the first and only platform in the region to implement escrow service, e-contracting, webinar, internet chat and more. Since our launch in Jun, we have crowdfunded ~3M SGD (approx. 2M EUR) in loans to 35 SMEs with 100% repayment. We aspire to be the most trusted P2P lending marketplace in Southeast Asia.
What are the three main advantages for investors?
As investors ourselves, we believe returns, convenience and security are critical. Therefore we offer an alternative investment that gives investors a much better return than traditional fixed income, through the convenience of a fully-online and hassle-free investment approach, with funds handled by a professional escrow agency for security.
What are the three main advantages for borrowers?
Having worked with many SMEs, we find their biggest constraints to be capital, time and energy. Therefore we strive to provide them with capital at competitive rates, fast speed-to-cash and best user experience with minimal effort.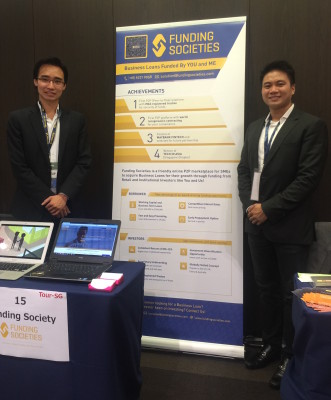 What ROI can investors expect?
We target the SME segment structurally underserved by existing financial institutions. Our interest rates are just a few percent higher than banks', to minimize adverse selection. We charge 9% to 14% simple interest and pass the full return to investors with only 1% service fee. With diversification, we believe investors can earn at least 7%, much better than deposit interest of 0.05% in Singapore.
How is your company funded?
We began by bootstrapping. Thanks to a talented and committed team, we achieved numerous awards within the first 6 months and received considerable attention from the investor community, including strategic VCs who share the same values with us and now fund us.
 Is the technical platform self-developed?
Yes, we built everything from scratch based on best practices we observed. It took us 95 days from start to launch, thanks to our talented CTO Felix Richard. Our goal is to deliver the best user experience, while ensuring security and scalability. Continue reading →