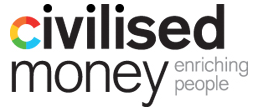 UK startup Civilised Money has raised 100,000 GBP from 121 individual investors using the p2p equity platform Crowdcube. The investors will own 10% of the funding after the legal process of the funding is completed. The funding was completed in just 9 days, showing the potential p2p equity has in the UK.
Civilised Money plans to offer crowdfunding first and p2p lending in a second step. Katherine Byles of Civilised Money told P2P-Banking.com earlier this week that this is actually the second funding round for the company: 'We have a first round of crowdfunded investment from 'The Pillars' 20 key supporters.'.
Asked whether the technology is self-developed or licensed, she told P2P-Banking.com: 'The technology is licensed. We have a one-off revenue share based licence for one of the most powerful and flexible P2P platforms available.  Through the core technology platform we will be able to roll-out a number of products, enabling us to cut the cost of using these – once funds are on the platform moving them between the different products is a simple and fast process.'
Asked about the USP as compared with Zopa, RateSetter or Fundingcircle Byles said: 'Civilisedmoney will offer all the people-to-people financial services products in one integrated service.  It has launched with crowdfunding. People-to-people loans are coming next. It is developing new products too. Civilisedmoney is becoming a one-stop-shop for all your people-to-people financial products that create a viable alternative to banks. …'
The company has ambitious goals as a quote from information provided in the pitch shows: 'While its service is not yet available in the U.S., CivilisedMoney's plans are to expand from the U.K. to greater Europe, and then eventually to Africa and the U.S. (CivilisedMoney's services offered will depend on region, since, for example, crowdfunding equity stakes for startups isn't yet legal in the U.S.)'.