Lativan p2p lending marketplace Mintos just launched a cashback campaign running for the remainder of December. Investors investing in new loans with a term of at least 24 months on the primary market will receive a cashback of 2% to 5% depending on term length. The cashback will be credited within 6 days says Mintos.
This is a big bonus that goes on top of the 12 to 14% interest rate that these longer term loans at Mintos typically carry.
Important: To be eligable an investor needs to enroll once for the campaign by clicking on the promotion banner inside the Mintos dashboard.
New investors can even get an additional 1% cashback on all investments made within the first 90 days of registration (credited monthly) by registering via this link,
Most loans on Mintos are in EUR currency, but other currencies are available, too. Only recently Mintos started listing loans in GBP currency too.
See the P2P Banking cashback page for more cashback offers.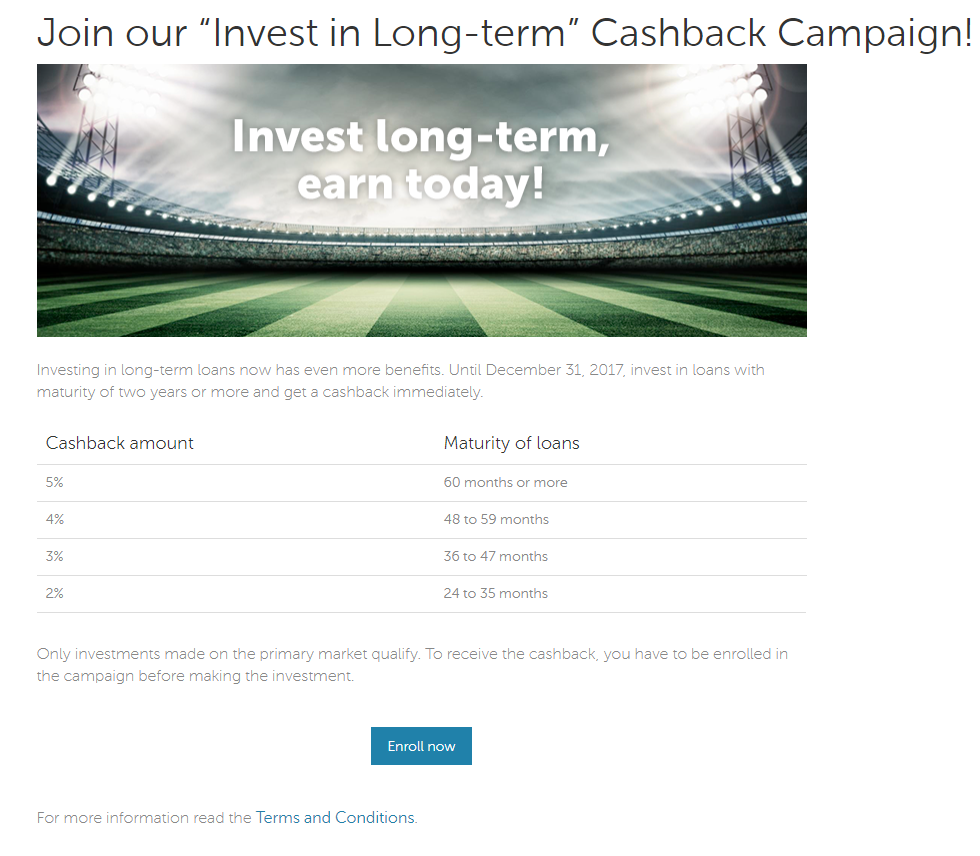 "Investing long-term has many benefits. Loans with a maturity of two years and more on average have higher interest rates. As the maturity of these loans is longer, these higher rates can be locked-in for longer as well, thus avoiding cash drag effect. Also, investing in long-term loans allows for a better diversification, because this way investors can access types of loans and borrowers that have a different profile than the average short-term loan takers. We hope that in combination with our cashback campaign, all of these benefits will help our investors reach their investment goals in a more efficient and rewarding way," says Martins Sulte, CEO and co-founder of Mintos.