Myelen.com is a service allowing lenders to loan money to small entrepreneurs in developing countries. The portal is run

by the Microfinance, a.s. company in Prague (Czech Republic).
Like at Kiva and MYC4 lenders can read profiles of borrowers. Currently Myelen has partnered with 4 MFIs in Mexico. In the Myelen concept the lender signs a contract with the MFI and the MFI takes the default risk of the individual borrowers.
The microfinance institution takes over the credit risks of individual borrowers and lowers them by geographical and sector diversification.
The lender carries the market risk that the MFI does not repay the loan. Furthermore at Myelen the MFI covers the currency risk – but for most lenders there is still a currency risk because the loan currency at Myelen is Czech Koruna (CZK).
The minimum loan amount is 5,000 CZK (approx. 260 US$). The loans are repaid annually (or quarterly for larger amounts). Lenders earn interst. The interest rate varies depending on the MFI and the amount loaned. Typical interest rates are 4 to6 percent (higher for large amounts).
My experience – my first loan via Myelen
I registered yesterday at Myelen.com. The interface ia available in English and Czech. There is also a button to choose German language but clicking that only changes the navigation elements – the text is not translated to German. The sign up form asks for IBAN and SWIFT routing codes for the repayments. Since IBAN account numbers are currently only in use in Europe this limits Myelen to lenders from Europe.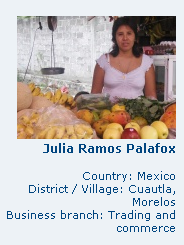 Signing up went smoothly, but I had to wait a few hours for my validation email. Today I selected my first loan to fund. First I was puzzled how to get to the loan selection. To get there the user needs to click on the "Support" link in the upper right. There I could then use drop down menues or browse the individual profiles (currently about 30). I decided to loan 5,000 CZK to Julia Ramos Palafox who has a fruit and vegetables stand in Mexico. The MFI – CrediComún listed a 5% interest rate. I was given the choice of selecting an annual or quartely repayment. One further option is to give an interest free loan (like at Kiva). The next step is to accept the loan contract. The loan contract is now sent via email to the MFI which signs it.
As a next step I will transfer the money to the Czech bank account of Myelen which will then forward it to CrediComún.