This is a guest post by German investor Martin R.. The article was written in April.
These days, Zencap celebrates its first anniversary. I've been involved right from the beginning and invested the full 10k€ you can invest without having a premium account.
Zencap – my characteristics
Zencap offers investment in corporate loans. You invest 100 EUR in one loan. The total loan is usually between some 10,000 EUR and approximately 200,000€. There are different scoring classes essentially determining the interest rates which are usually located between 5% and a little over 10%. The loan term ranges from 3 months up to 5 years, the main focus being 3 years. As the loans are instalment loans, you will usually have half of your investment plus interests available after 18 months. The nominal interest rates are decreased by 1% through fees for the investor. The loan listings are presented with a short description and have differently detailed documents attached. Some projects have personal sureties.
My experiences
are mixed. I'm rather satisfied with a yield of about 5.7% and no payment delays up to now. The payout takes place promptly after the scheduled payment at the 15th of each month. The bidding amounts are straightforwardly drawn through direct debit, however, the period between bidding and drawdown drag on very long from time to time (debiting is just before the first paying out, though). Now and then there are special promotions which increase the yield (see below).
My portfolio distribution according to creditworthiness: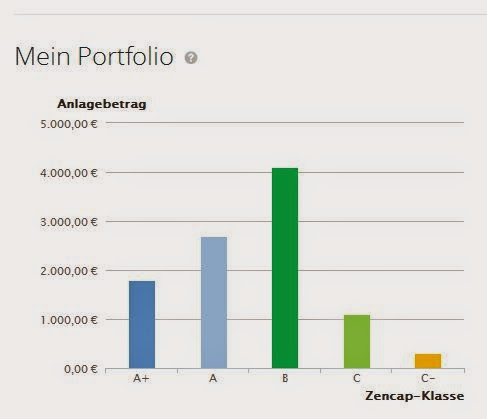 So far, so positive. The handling on the website concerning the management of the contracts should be improved a lot and the web fronted is full of mistakes. Retracing of individual debit entries is impossible without great effort and the shown entries aren't always correct (As far as I've checked, the actual entries are correct though).
The marketplace has promised to fix those issues, but for months they didn't even fix the simplest mistakes such as broken links. All of that doesn't seem very professional.
My conclusion
I have fulfilled my provisional investment objective and won't increase it for now. Meanwhile, about 20% of the investment sum were paid back. There were neither losses nor early repayments.
Should it become possible to invest more without having [to open] a premium account I will seriously consider it. Hitherto only one projects seems to have failed – a good result for a total loan volume of over 13 million EUR. Hence the credit approval seems to work pretty well – it is more efficient to carry out for higher sums than for 50 x 1000 EUR consumer credits.
Right now I can recommend this service. The yield is not especially high, but neither is the risk.