December was a month with mixed developments. While the US services and selected other services continued to grow, other services – especially the UK ones – had a slow month with decreasing volume. Of course this is influenced by the Christmas holidays. I do monitor development of p2p lending figures for many markets. Since I already have most of the data on file I can publish statistics on the monthly loan originations for selected p2p lending services.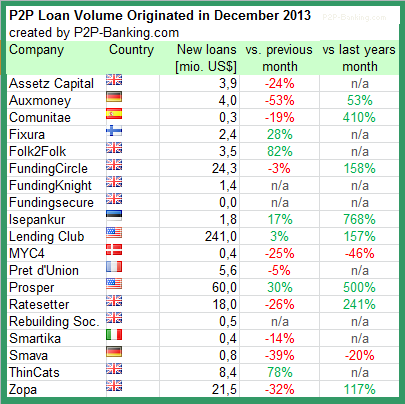 Table: P2P Lending Volumes in December 2013. Source: own research
Note that volumes have been converted from local currency to US$ for the sake of comparison. Some figures are estimates/approximations.
Notice to p2p lending services not listed:
If you want to be included in this chart in future, please email the following figures on the first working day of a month: total loan volume originated since inception, loan volume originated in previous month, number of loans originated in previous month, average nominal interest rate of loans originated in previous month.
This month I added 3 more UK services to the table and removed Squirrl, which had announced that it will close:
Dear Squirrl Savers

It is now over a year since Squirrl was last active. We have not been able to come up with a suitable alternative and have reluctantly decided to close the site for the time being. From 1st January 2014 you will not be able to access the site.

Squirrl.com Ltd will continue to act as the Security Trustee and will manage all existing loans. The following arrangements are being made:

Please access your MySquirrl account before 1st January and request payment of all money due on the account using the current withdraw process. We will pick up these requests and activate them on your behalf.

From 1st January we will pay you all loan repayments plus interest on the due date by cheque posted to your registered address on your MySquirrl account.

…
Our objective is to continue to provide a full repayment service and provided you follow the above simple steps we can assure continuity of contact.

Best wishes
The Squirrl.com Team