Today I am in Prague at the P2P Investing Day organized by Symfonie Capital. There are several Central and Eastern European marketplaces present like Bondora, Finbee, Estateguru, Zlty Melon, Symcredit and Zonky, but also Lendinvest and Ablrate from the UK. The content of the panels and presentations was not as basic as in last year's conference. I'd estimate about 150-200 attendees.
One interesting discussion centered on the differences between a bank loan and a p2p loan for a SME loan borrower that has problems to make the payments. One argument was that the advantage of a p2p lending marketplace is that it can be more flexible in finding a solution, e.g. by prolonging the loan term – having power of attorney granted by investors it is free to find a solution it deems right for the situation. The counterargument was that the platform should adhere to a rather strict set of rules since it owes its investors predicitability. Personally I understand both views but as an investor I prefer platforms to stick to a predefined process, because only that will make collections and defaults rates predictable. If there is too much flexibility and on the spot decisions it will be very hard to statistically evaluate platform performance and development for troubled loans over time.
One interesting anecdote was mentioned by Lucie Tvaruzkova, CEO of Zonky, a consumer loan marketplace in the Czech Republic, launched several month ago. She said that at the moment there is a waiting list of 7,000 investors wanting to use the platform but to scale it properly in line with loan demand, she lets those in only bit by bit. So far 5,000 investors are already active on the platform.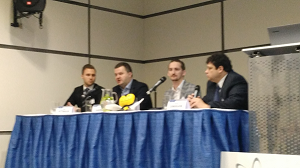 Panel on consumer focused platforms with representatives of Savelend, Bondora, Finbee and moderator Michael Sonenshine

David Bradley-Ward, CEO of Ablrate, told me that he expects to put more airplane loans on the platform in 2016 than in the previous year, but has to be selective in which loans fit the investor appetite. He also says the situation gets easier as he now has institutional investment in place that can pick up loan parts that would otherwise go unfunded by institutional investors.
I liked the panel that had 3 SMEs, that borrowerd through a p2p loan, on stage, as this gave an interesting change of perspective.
I plan to do one or two follow up interviews with partcipants of the conference.
Tomorrow the event will focus on angel investing and crowdfunding.