I started p2p lending at Bondora (formerly Isepankur) in the end of 2012. Since then I periodically wrote on my experiences – you can read my last report here. Since the start have deposited 13,000 Euro (approx. 17,600 US$). My portfolio is very diversified. Most loan parts I hold are for loan terms between 36 and 60 months. Together the loans add up to 15,610 Euro outstanding principal. Loans in the value of 1,579 Euro are overdue, meaning they (partly) missed one or two repayments. 888 Euro are in loans that are more than 60 days late. I already received 6,212 Euro in repaid principal back (which I reinvested).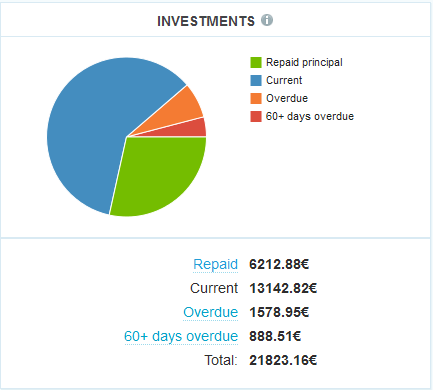 Chart 1: Screenshot of loan status
Right now I have a high amount of cash in the account – 1,144 Euro. I'll explain what led to this situation later on.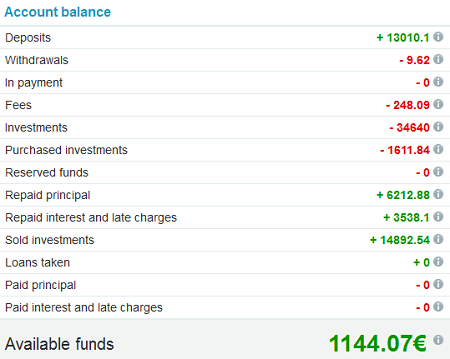 Chart 2: Screenshot of account balance
Return on Invest
Currently Isepankur shows my ROI to be over 28.8% (sidenote: I and several others observed that trading had no impact on the ROI shown. Then our ROI suddenly jumped on June 19th; we assume Bondora changed the calculation then to account (better?) for capital gains; here is an example of a portfolio with very big impact of trading). In my own calculations, using XIRR in Excel, I currently get a 25.9% ROI. Even if I assume that 50% of my 60+days overdue will not be recovered (past recovery rates reported by Bondora have been high) my ROI still calculates to 23.2% .
Continue reading →